I love Massage on the Square! I am always relaxed and rejuvenated when I leave.
Massage on the Square is one of the best therapeutic massages I HAVE EVER HAD!!! These massage therapists are THE BEST around town. Do yourself a favor and make an appointment!! Ahhhhhhh
Molly was my massage therapist for years when I lived in Denton. I still go back to her when I'm in town visiting because I have yet to find another massage therapist who can give me as good of a massage! Not only does she give a great massage, but she is such a positive, uplifting person to be around.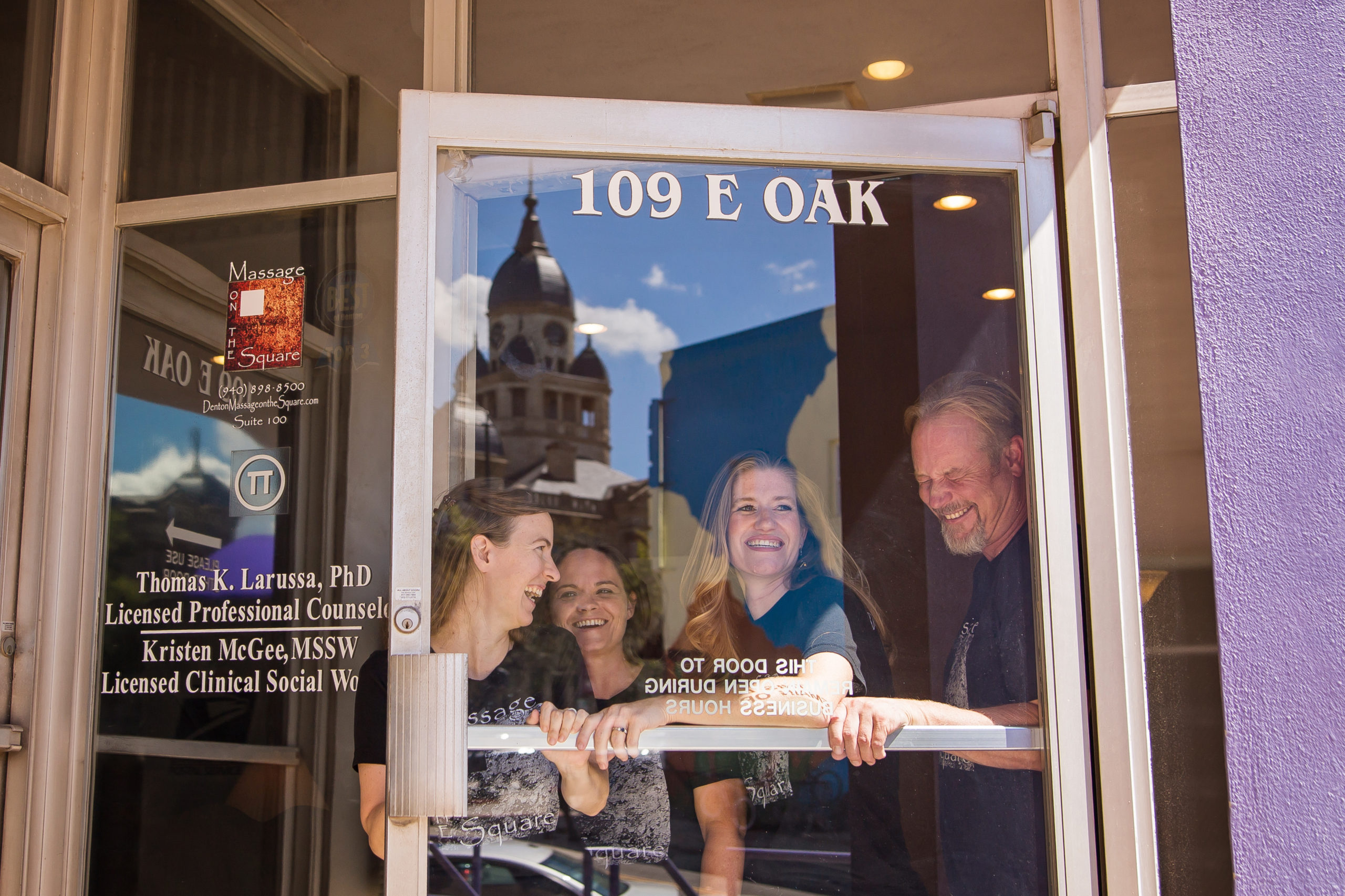 Addison Mercer, LMT [MT136770] graduated from Massage Institute of North Texas in 2022. She has a bachelors degree from Ouachita Baptist University in kinesiology with a minor in psychology. Her training is in Swedish, therapeutic, trigger point, and manual lymphatic drainage. Her goal is to help stimulate the parasympathetic nervous system to promote relaxation to de-stress while treating areas of pain or discomfort.
Services offered: 30, 45, 60, 75, 90 and 120 minute Signature Massage – Manual Lymphatic Drainage
James Hineman, LMT (MT133247) graduated from the Institute of Bodywork Studies, December 2019. He obtained a certificate as a Medical Massage Practitioner from LMT Success Group in 2021.  James has a relaxing touch, combined Swedish with Myofascial Release, Trigger Point Therapy, Deep Tissue and Stretching.
Services Offered: 30, 45, 60, 75, 90, 120, Minute Signature Massage – Chair – Hot Stone
Christy Harris, LMT (MT131138) graduated from Sterling Health Center in 2018.  She is a caring and patient LMT who is also a certified Yoga instructor.  She has a heart for service and a desire to help others find balance, and ease pain or discomfort. She has a holistic approach to massage, utilizing the knowledge that the body is one, and that each piece relates to the other.  She allows intuition, knowledge and experience guide her in every session to maximize effectiveness and facilitate an open, safe, and uplifting environment for her clients. Her goal is that each client leaves feeling nurtured and at peace. Christy enjoys working with her hands and has a passion to continue to grow and learn as a therapist. She has extensive training in Manual Lymphatic Drainage; working with clients post op and post cosmetic surgery as well as experience with cupping, aromatherapy, and myofascial release.
Services Offered: 30, 45, 60, 75, 90, 120 Minute Signature Massage – Manual Lymphatic Drainage – Post-Surgical Lymphatic Drainage
Scott Price, LMT [MT036778] graduated from the Institute of Body Work Studies in 2003. He has extensive experience in the medical clinic setting. Scott has advance skills in the following areas – Trigger Point, Deep Tissue, Stretching, Myofascial Release and Seated Massage.
Services offered: 30, 45, 60, 75, 90, 120 minute Signature Massage – Chair
Molly Roberts, LMT [MT024996] received her massage license in March 2000 from the Academy of Healing Arts in Denton, TX. Molly specializes in Deep Tissue, therapeutic body work. She has advanced training in prenatal massage, reflexology, trigger point therapy, chair massage, myofascial release of the head, neck and TMJ, as well as deep tissue of the upper and lower extremities.  Molly has years of experience helping clients manage chronic pain as a result of poor structural alignment, degenerative diseases, stress and injury. She also has a Bachelor's of Science in Communication Sciences from TWU. Please call or email Massage on the Square to schedule with Molly, as her schedule is not public. 
Services offered: 30, 45, 60, 75, 90 and 120 minute Signature Massage – Prenatal  – chair  – Hot Stone
Marci Kitchens, LMT [MT036419] – Graduated in 1997 from North Texas School of Swedish Massage in Arlington, TX. Marci specializes in Deep Tissue Therapy. She has extensive training in Neuromuscular Therapy, Trigger Point, Cupping, Fascia Blasting and Prenatal.
Services offered: 30, 45, 60, 75, 90 and 120 minute Signature Massage – Prenatal  – chair
Ferran Campbell, LMT [MT113411] – Graduated from Universal Body Wellness in McKinney in 2010. Her training consists of Swedish, Deep Tissue, Myofacial release, prenatal massage, infant massage, cupping, sports massage, and raindrop. Ferran is focused on helping clients heal through the art of massage. She also has a Bachelors of Science in Psychology from Texas Woman's University and is currently pursing her Masters in Occupational Therapy. She has a passion for kids with special needs and plans to continue her career in body work while concurrently helping children meet their goals. Ferran provides therapeutic work to children with their parents present.
Services offered: 30, 45, 60, 75, 90 minute Signature Massage – Prenatal
Melia was absolutely amazing! I was in for my very first massage therapy appointment and she made me feel comfortable and applied just the right amount of pressure to my troublesome back and neck. I will definitely book another appointment with her and have already recommended her to several people.
My daughters gave me a gift certificate to MOTS. My first visit was incredible and I've been a regular ever since – going on two years. Great location, great place, great staff!
I LOVE and highly recommend Massage on the square Denton! As they are very Professional and attentive to each individual that comes through the door. I will always use this as my place to go to as well as refer.